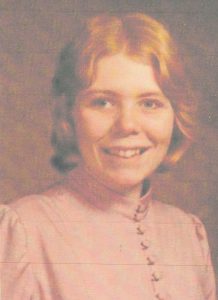 Mrs. Deborah Ann (Lockwood) McClain, age 62, of Bennington, Indiana, entered this life on March 3, 1959 in Madison, Indiana. She was the loving daughter of Oliver and Faye Ann (Dailey) Lockwood. She was raised in Switzerland County, Indiana where she was a 1977 graduate of the Switzerland County High School. Deborah moved to Jackson, Ohio where she was united in marriage to Forest McClain on September 18, 1976. This happy union was blessed with two sons, James and Daniel. Deborah and Forest shared nearly 45 years of marriage together until her death. She was employed as a mold press operator for Jackson Corporation-Rubberqueen in Jackson, Ohio for 4 and 1/2 years. She was later employed for Deerland Resort as a secretary in Jackson, Ohio for four years. In 1994, Deborah and Forest moved back to the Switzerland County community. She was a member of the Independent Order of Odd Fellows and Daughters of the American Revolution. She was a former member of the Hope Rebekah Lodge #851 of Bennington, Indiana.Deborah enjoyed writing, crafts, pets and spending time with her grandchildren and friends. Deborah passed away at 12:45 p.m., Thursday, June 10, 2021, at her residence in Bennington, Indiana.
Deborah is survived by her husband, Forest McClain of Bennington, IN; her sons, James McClain and his wife, Sonja of East Enterprise, IN and Daniel McClain of Milton, KY; her father, Oliver Lockwood of Rising Sun, IN and her sister, Volena Lynn Wells.
She was preceded in death by her mother, Faye Ann (Dailey) Lockwood, died February 12, 2000.
Private visitation and funeral service will be held at the funeral home.
Interment will follow in the New Liberty Cemetery, East Enterprise, Indiana.
Memorial contributions may be made to The National Multiple Sclerosis Society. Cards are available at the funeral home or online at www.haskellandmorrison.com