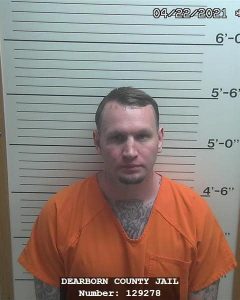 Lawrenceburg, IN — A Lawrenceburg man who was in jail while charges were pending in a domestic battery case has been sentenced to 10 years in prison for violating a no-contact order and threatening the victim in that case.
According to court documents, 34-year old Kevin Hemingway tried calling the victim 1,559 times over a four-month period. Hemingway was facing battery charges for allegedly beating his pregnant girlfriend. In addition to the nearly 1,600 phone calls, Hemingway was also accused of sending threatening text messages to the victim.
"Victims are thrust into the criminal justice system by no choice of their own. Once the prosecution of the case begins, for the victim to be continually harassed and threatened by a defendant violating a court-ordered restraining order, it will not be tolerated," said Dearborn/Ohio County Prosecutor Lynn Deddens.
Hemingway was sentenced to a decade in prison by Dearborn County Superior Court Judge Jonathan Cleary after pleading guilty last month to charges of Obstruction of Justice and Being a Habitual Offender.