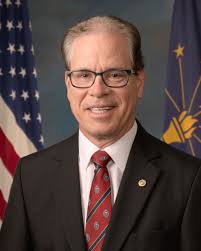 Brookville, IN  — Staff members of United States Senator Mike Braun (R-IN) will be at the Brookville Town Hall on Monday, June 14 from 11 am until 1 pm. The purpose of the visit is to assist constituents who are having issues with federal agencies, listen to concerns about pending or future legislation, and help address any other topics of discussion.
The Senator's office is asking anyone who wishes to visit during mobile office hours to RSVP and schedule a time by emailing Regional Director John Moton at [email protected].
If you need immediate assistance with a federal agency, please complete, print, and sign the attached Privacy Release Form. You may bring this form to one of the mobile office hours or you can send it to the Senator's state office by mail at 115 N. Pennsylvania Street, Suite 100, Indianapolis, IN 46204, or via email to [email protected].
You may also contact the Senator about any casework issues by visiting his federal agency assistance page.
If you have an opinion regarding legislation before the Senate or a policy concern, you may also contact the Senator directly by visiting www.braun.senate.gov/contact-mike.