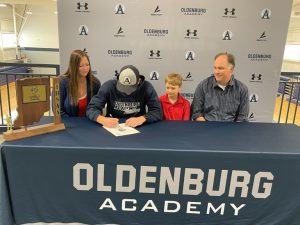 Oldenburg Academy Twister Baseball Standout Chris Hautman has signed to play collegiately with Hanover College.
Chris has been a utility player for the Twisters baseball program playing third base, first base, second base, and pitcher. Pitching is Chris's strong suit when it comes to contributing to the team. During his career with the Twisters Hautman has appeared in 28 games (22 starts) with a 14-6 record. He has thrown 8 complete games, with 2 of those being shutouts. He has struck out 167 batters while only walking 60 over 104 1/3 innings pitched with a 1.95 career ERA. He holds a .319 batting average with 1 home run, and 36 RBIs.
Chris the son of Chris and Jill Hautman.