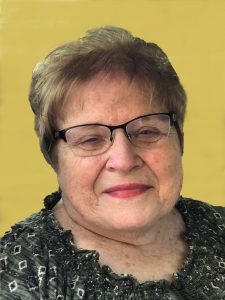 Marilyn A. Barkdoll, 83, of Lawrenceburg, Indiana, passed away Thursday, May 27, 2021.
She was born June 2, 1937, daughter of the late Clair Throne and Ferne (Chaffin) Throne.
Marilyn worked as a Social Worker for Cuyahoga County, in Cleveland, Ohio.
She was a long time member of Brook Park Church of the Brethren, in Cleveland, Ohio. After moving to Indiana she attended the Community Fellowship church in Lawrenceburg, Indiana.
Marilyn loved to sing, and sang in the church choir. She was a people person, and always enjoyed helping others. She had a huge heart for helping those in need.
Her family and faith were very important to her and she will be missed by all who knew her.
Marilyn is survived by her sons, Brian (Sharon) Barkdoll of Houghton, MI, Daniel (Sara) Barkdoll of Lawrenceburg, IN; life partner of 35 years, Ken Hager;  sister, Bonnie Smith of Wellman, IA; grandchildren, Rebecca Barkdoll, Peter Barkdoll, Joseph Barkdoll, Emmanuel Barkdoll, Mary Grace Barkdoll, Bethany (Jimmy) Rice, Abigail (Jason) Rueger, Josiah (Savannah) Barkdoll, Benjamin & Kylie Stoup Barkdoll, Daniel Barkdoll, and Jeremiah Barkdoll; one great grandson on the way.
She was preceded in death by her parents, Clair & Ferne Throne.
Friends will be received at the Community Fellowship Church, 505 Bielby Road, Lawrenceburg, Indiana on Sunday May 30, 2021 at 5 PM.
Services will be held at 5:30 pm with Pastor Paul Woodburn officiating.
Contributions may be made to the Young Life IN142. If unable to attend services, please call the funeral home office at (812) 926-1450 and we will notify the family of your donation with a card.
Visit: www.rullmans.com