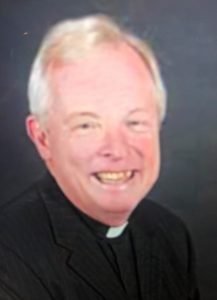 The Rev. Donald L. Olson, Jr., 73, of Aurora, IN, passed away at St. Elizabeth Hospital, Fort Thomas, KY, on May 23, 2021.
Don was born on August 10, 1947, in Bremerton, WA, the son of Donald Olson, Sr., and Cleola (Haunschild) Olson. He was baptized into the Christian faith on August 24, 1947, and reaffirmed his baptismal vow at the time of his confirmation on April 10, 1960. He and his parents lived briefly in San Francisco, CA and Philadelphia, PA, before settling in Corpus Christi, TX to be near the Naval Air Station. Don attended several schools in Corpus before heading to Austin, TX to attend high school at Concordia High School at age 16. After high school he continued his education at Concordia Junior College, Austin, TX; Concordia Senior College, Fort Wayne, IN; Concordia Seminary, St. Louis, MO, in preparation for ordination into the Holy Ministry of the Lutheran Church-Missouri Synod. He was ordained on June 10, 1973 at his home church, Trinity, Corpus Christi, TX.
Being one of God's "under-shepherds" was his life's mission and he gave all he had into preaching God's word in its truth and purity. He was loved and respected by many for his kindness and compassion.
Don was a lifelong Dallas Cowboys fan, sharing that passion with his sons, Matthew and Jonathan. He enjoyed cooking and grilling outside on his charcoal grill. He spent many a day in the bleachers at this sons' baseball and basketball games, sometimes doing a little coaching from the sidelines. Pictures of his two grandsons would light up his face and bring a smile. He committed many vacations to returning to help with the Aurora Farmer's Fair and to support the Aurora Lions.
He held down many jobs over the course of the years – grocery bagger, construction worker, railroad worker, bartender, basketball and volleyball referee, and baseball umpire. He also worked as a funeral home assistant for three years in Waco, TX.
Don served churches in Eola (Mt. Calvary) and Ballinger (Bethel) TX, 1973-75; St. John, Aurora, IN, 1975-1986; Trinity, Waco, TX, 1986-2004; vacancy pastor at St. Paul's, Aleman, TX, 2004-2007; Trinity, Uvalde, TX, 2007 until retiring at the end of 2015. He also served a brief vacancy at St. John, Farmer's Retreat, IN in 2019. He served as circuit visitor in several circuits for approximately 30 years.
He married LouAnn (Savage) Olson on August 22, 1970 at Trinity Lutheran Church, Fort Wayne, IN. Two sons were added to this family – Matthew in 1982 and Jonathan in 1986. In 2016, he and LouAnn left his beloved Texas to once again reside in Aurora, IN, the place they had always thought of as "home."
He was preceded in death by his parents, Don, Sr. and Cleola Olson, and sister-in-law, Cheryl Miller. He is survived by his wife, LouAnn; sons, Matthew of Indianapolis and Jonathan (Nicole) and grandsons, John William and Nathan, all of Severna Park, MD; sister, Carol (Stephen) Hower; brother-in-law, Jerry Miller; nephews, Joshua Hower, Jacob Hower, Aaron Miller, and niece, Taylor Miller; and many friends.
His memory will always be cherished by those who loved him.
Friends will be received on Tuesday, June 1, 2021 at St. John Lutheran Church of Aurora, from 10:00 am – 12:00 pm.
Services will be held at 12:00 pm at the church with Pastor Jerry Bagwell and Pastor Ronald Stephens officiating.
Interment will be in the River View Cemetery, Aurora, Indiana.
Contributions may be made to the St. John Lutheran Church. If unable to attend services, please call the funeral home office at (812) 926-1450 and we will notify the family of your donation with a card.
Visit: www.rullmans.com