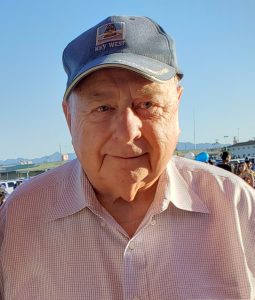 Elvin L. Ellison, age 83, passed away Wednesday, December 23, 2020 at his home in Laveen, AZ. He was born August 21, 1937 to Russell Ellison and Ruby (Konkle) Ellison in Hamilton, Ohio.
A graduate of Aurora High School, he received a BA from Asbury University, Wilmore, Kentucky, a MA from Michigan State University, East Lansing, Michigan, and a degree in Mortuary Science from Cincinnati College of Mortuary Science, Cincinnati, Ohio.
As a teacher in Michigan and the South Dearborn School Corporation, Elvin was involved in assisting school teams and the teacher's associations including SDEA, ISTA, and the NEA. After going into the funeral business he volunteered in many projects of the Lawrenceburg Kiwanis Club and churches which he served and was a member. From 1975 through 2005 Elvin served as a licensed Lay Pastor in area Indiana United Methodist Churches and was an involved member and leader at Hamline Chapel UMC, Lawrenceburg; First UMC of Chipley, Chipley, FL; and Christ Community UMC, Avondale, AZ. As an Arizonan, he enjoyed volunteering for more than six years with Hospice of the Valley in Phoenix, attending the city's professional indoor football games, time with family and friends, and in early morning, lengthy walks with his dog, Jake.
Elvin had a way to lighten the lives of friends and family. He will be remembered for his quick wit and humor as well as his devotion to family and friends. As a Lawrenceburg, Madison, and Forest Park businessman he found a calling in serving the needs of families in their days of sorrow and grief. How ironic is it that the date of his death fell within the time he found hardest to be a funeral director — Christmas?
Elvin is survived by his wife of fifty-seven years, Jean. Other survivors include son, Mark (Lesley), Phoenix; daughter, Amy, Cincinnati; sister, Martha, St. Joseph, MO; as well as seven grandchildren: Ashley, Cincinnati; Nathan, Georgia; Lexi, Arizona; Alexandria, California; James, Nevaeh, and Cody, Phoenix. Three great-grands, John, Cody, and Autumn, live in Cincinnati; the fourth, Selene, is in California. Elvin was preceded in death by his parents, Russell and Ruby Ellison.
Graveside memorial services are planned at River View Cemetery, Aurora,Indiana at 10:30 in the morning on Tuesday June 1, 2021. Pastor Dawne Sarchet, Aurora First Presbyterian Church, will preside. COVID-19 led to the church's on-line services that Elvin wouldn't miss. It was a service Elvin didn't want to miss on a Sunday morning.
The family suggests donations be made to Hospice of the Valley, Phoenix, Christ Community United Methodist Church, Avondale, AZ, or the Shriners Children's Hospital, Cincinnati.