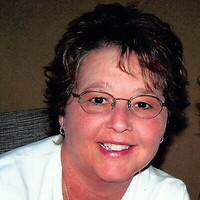 Patricia Ann (Patty) Luken left this world to be at peace with our Lord. Patty was born April 23rd, 1954 to Edward Donald and LouAnn (Wise) Burns.
She graduated from Greensburg High School in 1972. While in high school, she met the love of her life, Jim Luken, and they were married on May 12th, 1973, at St. Mary's in Greensburg. Together they raised their two boys, Matthew and Brent.
Patty ran a child care service and touched the lives of many children who still call her Aunt Patty. She later was employed at the Greensburg Country Club and then the GJHS cafeteria.
Patty had the kindest heart ever and she would do all she could to help someone out. She enjoyed bowling and was pretty successful on Thursday night league. She also enjoyed playing co-ed golf with her husband and their golfing crew and the many family trips to Dale Hollow Lake.
Patty is survived by her mother, husband, her sons Matthew and Brent (Alicia) and her four grandchildren, Kyran, Maggie, Jameson, and Emma; Four sisters, Charlotte (Larry) Bailey, Margie (Phil) Poling, Kim Burns, Dottie (Steve) Gommel; One brother, Jeff (Diane) Burns. She was preceded in death by her father; brother, Jim Burns, sister, Donna Burns.
Family and friends will gather at 3:30 p.m. on Thursday, May 13, 2021 at the Porter-Oliger-Pearson Funeral Home in Greensburg to pray the rosary. Visitation will follow until 7:00 p.m. Visitation will also be held on Friday from 9 to 9:45 a.m. at St. Mary's Catholic Church followed by the funeral mass at 10:00 a.m. with Rev. John Meyer officiating. Interment will be held in the St. Mary's Catholic Cemetery in Greensburg. Memorial contributions may be made through the funeral home to the National Kidney Foundation.
Online condolences can be made to the family at www.popfuneralhome.com