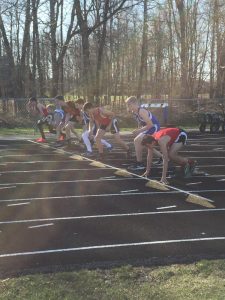 The ND Lady Chargers Varsity Girls Track Team didn't let the rain stop them from winning a three-way meet at Edinburgh on Thursday, May 7th.
Abby Hartman took 1st place in High Jump. Anna Burkhart took 1st in Long Jump, 100M Dash, and 200M Dash. Ella Kunz took 1st in the Shot Put and 2nd in 100M Hurdles. Allison Nobbe took 4th in the Long Jump, 2nd in the 100M Dash and 2nd in the 200M Dash. Skyla Wade took 1st in Discus, 4th in the 200M Dash, and 4th in Shot Put. Grace Hartman took 3rd in Shot Put. Pilomenia Niese took 4th in Discus. Jenna Walton took 2nd in the 800M. Jenna Geis took 1st in the 400M Dash. Grace Osting took 1st in the 1600M Run and 2nd in the 300M Hurdles. Ellie Cox took 4th in the 800M Run and 2nd in the 3200M Run. Addie Gauck took 2nd in the 1600M Run. The 4X400M Relay made up of Geis, Osting, Walton, and Hartman took 1st place while the 4x100M Relay made up of Burkhart, Geis, Hartman, and Kunz took 1st. Gauck, Walton, Cox, and Osting took 1st place in the 4x800M Relay.
Courtesy of Chargers Coach Ashley Dillon.
The North Decatur Varsity Boys Track team competed in a tri-meet at Edinburgh with Waldron on Thursday, May 6th. Team scores were:
North Decatur – 81
Waldron – 38
Edinburgh – 30
Individual result for the Chargers included:
Logan Koehne:
3rd in the Shot put (33' 3")
Ellis Loehmer:
2rd in the High Jump (5' 6")
2nd in the 300m hurdles (53.5)
1st in the 110 high hurdles (17.74)
1st in the 400 meter dash (56.54)
Kaiden Gahimer
2nd in the Discus (89' 6")
2nd in the Shot Put (34/ 5")
Caleb Muckerheide
2nd in the 1600m (5:32)
James Evans
2nd in the 400m (1:01.8)
3rd in the 200m dash (25.7)
Cameron Medsker
3rd in the 300m low hurdles (56.7)
Cole Theobald
1st in the high jump (5' 6")
4th in the long jump (15' 10.5")
Cole Stephens
1st in the Discus (91' 10")
4th in the Shot Put (31' 7")
Mason Burkhart
4th in the 300m low hurdles (56.37)
Owen Geis
1st in the 3200m run (13:08)
3RD in the 1600m run (5:50)
Ryan Hancock
3rd in the 800m run (2:37)
2nd in the 3200m. run (13:38)
Mason Dimett
3rd in the 110m High Hurdles (15.1)
Relay Results:
4x100m Relay ND 1st (47.23)(Logan Koehne, Kaden Muckerheide, James Evans, Martin Azkoaga)
4x400m Relay ND 1st (Kaden Muckerheide, Kaleb Phelps, Josh Evans, James Evans)(4:23)
4x800m Relay ND 1st (Mason Dimett, Kaleb Phelps, Ryan Hancock, Owen Geis)(11:51)
Courtesy of Chargers Coach Ernie Ruble.