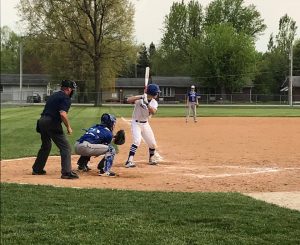 The Bulldogs defeated The Lawrenceburg Tigers 4-0 on Thursday as two pitchers combined to throw a shutout in the Reds' High School Showcase game. Riley Zink and Jack Grunkemeyer completed the shutout for the Bulldogs on the hill.
Batesville got things moving in the first inning, when Sam Voegele grounded out, scoring one run.
One bright spot for Lawrenceburg was a single by Ethan Weimer in the first inning.
Riley Zink got the win for the Bulldogs. The right-hander surrendered zero runs on four hits over six innings, striking out 12 and walking one. He also received the Reds High School Showcase MVP of the night. Grunkemeyer threw one inning in relief out of the bullpen.
Brayden York took the loss for Lawrenceburg. The hurler went three innings, allowing two runs on two hits and striking out one.
Calvin Sherwood led the Bulldogs with two hits in three at-bats. Batesville didn't commit a single error in the field. Zach Wade had 14 chances in the field, the most on the team.
Lawrenceburg was sure-handed and didn't commit a single error. Colin Mueller made the most plays with seven.
The win takes the Bulldogs to a 13-4 record overall and they sit atop the leaderboard in the EIAC with a record of 6-2 in conference play. The Bulldogs look to improve their record tomorrow as they compete against Jennings County at home for annual Youth League Night.
Courtesy of Bulldogs Coach Justin Tucker.