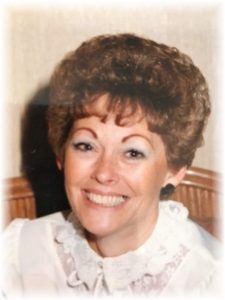 Shirley Pauline Trenkamp, 76 of Greensburg, Indiana, passed away peacefully on Tuesday, May 4, 2021 at her residence, surrounded by family.  Born on March 11, 1945 in Adams, Indiana, she was the daughter of Ausley and Katherine Martin.
Shirley graduated from Sandcreek High School in 1963.  She lived and worked in Greensburg her entire life.  She loved spending time with her family, grandchildren and friends.  She especially enjoyed the many laughs shared during intense family card games.
She will be dearly missed by her daughter, Pat Jones (John) and son, Jim Biltz (Lori) both of Greensburg; grandchildren, Britney Biltz, Maverick Jones and Wyatt Jones; sisters, Judy Holland of Greensburg and Linda Maddux of Las Vegas, NV, along with numerous nieces and nephews, all of whom she loved dearly.
She was preceded in death by her parents.
Shirley requested there be no funeral services.  Cremation is being coordinated by Meyers Funeral Home in Batesville, Indiana.
Online condolences can be shared at www.meyersfuneralhomes.com in the online guestbook for Shirley.
Expressions of sympathy may also take the form of contributions to Our Hospice of South Central Indiana or the Hebron Cemetery Association, Adams, Indiana.