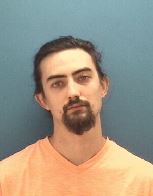 Columbus, IN — A Noblesville man was arrested by Columbus police officers on three felony charges Wednesday evening after he reportedly held a knife outside of his car's window while tailgating an off-duty CPD officer who was driving his personal vehicle. The incident was reported to police dispatch at approximately 7:35 pm and officers stopped the suspect, who was identified as Jeffrey R. Castetter, 26, of Noblesville, near US 31 and Washington Street a short time later. When the officers spoke to Castetter, they detected the strong odor of an alcoholic beverage on his breath. After failing several field sobriety tests, Castetter refused to take a certified chemical intoxication test. Officers applied for and later received a search warrant for a blood draw at Columbus Regional Hospital. At the conclusion of the test, Castetter was placed under arrest. He was transported to the Bartholomew County Jail where he was remanded on the following preliminary charges:
Operating a Vehicle While Intoxicated with a Prior Conviction (Level 6 Felony)
Intimidation with a Deadly Weapon (Level 5 Felony)
Intimidation Against a Law Enforcement Officer (Level 6 Felony)
All charges are merely accusations and the defendant is presumed innocent unless and until proven guilty.
(Columbus Police Department press release)