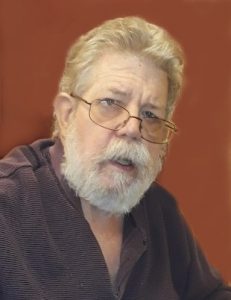 Arthur Duane McLemore, 65, of Dearborn County, Indiana, passed away Friday April 23, 2021.
He was born January 28, 1956 in Cincinnati, OH, son of the late William J. McLemore and Barbara (Bright) Howard. He is survived by his loving spouse of 42 years, Rhonda, his loving children Duane and Barbara, his 3 younger siblings, and many nieces and nephews.
Arthur worked as a Machinist and Toolmaker with General Electric Aviation and was a member of the International Association of Machinist & Aerospace Workers (IAM-AW). He could level by sight within thousandths of an inch, and always knew when something wasn't square.
Arthur was a Ham Operator since he was a teenager, and loved having conversations with people from all over the world. He enjoyed reading, particularly science fiction, he also spent time fishing, gardening, and cooking, especially BBQ and Chinese. He was always in pursuit of the next great recipe or restaurant to share with friends and family. He loved listening to music and the radio was always on in the kitchen, his favorite hangout spot in the house.
He had a keen sense of humor and a unique outlook on life. A big fan of both Douglas Adams and Monty Python, a quote from either was a daily occurrence in the house. His family was of the utmost importance to him, and he will be greatly missed by them all.
He was preceded in death by his parents.
Services will be held at the convenience of the family.
Contributions may be made to the Samaritan's Purse or Charity of Choice. Please call the funeral home office at (812) 926-1450 and we will notify the family of your donation with a card.