Dearborn County, IN — The four Catholic Parishes of Dearborn County will be under the pastoral care of two priests, Fr. Jonathan Meyer and Fr. Daniel Mahan, starting July 7.
At weekend Masses on May 1 & 2, Fr. Randy Summers, pastor of St. Teresa Benedicta of the Cross; Fr. Ben Syberg, pastor of St. Lawrence and St. Mary; and Fr. Meyer, pastor of All Saints Parish, all announced the upcoming adjustments for Catholics in Dearborn County.
The Archdiocese of Indianapolis is implementing a new Vatican document: "The pastoral conversion of the Parish community in the service of the evangelizing mission of the Church" – published by the Congregation for the Clergy, July 20, 2020. This document will be the blueprint and guide for a new configuration of leadership, ministry and evangelization.
Fr. Summers and Fr. Syberg will begin new assignments at parishes outside the county. Fr. Mahan, currently the pastor of St Barnabas in Indianapolis, and Fr. Meyer will both serve as pastors of all four parishes in the county, and will be known as priests "in solidum." Priests in solidum exist when the pastoral care of a parish, or a number of parishes together, can be entrusted to several priests jointly.
Fr. Meyer stated he is optimistic for Catholics in Dearborn County. "God has been very faithful to all of us in Dearborn County for over 197 years since the founding of the first parish in 1824. My heart is full of gratitude to have served in this county for the past seven years and two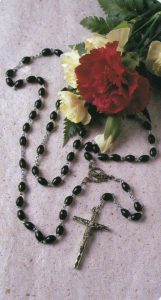 months at All Saints Parish. Now God is inviting all of us, myself included, with Fr. Dan Mahan, into a new chapter of our history. God's providence will not fail us."