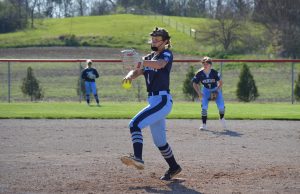 The Franklin County Varsity Softball team picked up a road win on Friday evening as the Wildcats defeated the Knightstown Panthers by a score of 9 – 5.
The Wildcats put up runs early and often as the Wildcats offense put the ball in play hard consistently throughout the whole contest. Franklin County finished the game with fifteen hits, and scored in all but two innings.
FC also had pretty good defense in the contest, as well as great pitching in the circle from Bree Bischoff. Bischoff kept the Panther hitters off-balance throughout the game and ended the game with ten strike outs!
FC Offense-Anne Becker: 3/4 (3 Singles); Kassidy Schell: 3/4 (3 Singles), 2 R, 2 SB; Bree Bischoff: 2/3 (2 Singles), 3 RBI, 1 R; Kiersten Schell: 2/4 (Single, Double), 1 RBI; KK Ferman: 2/4 (2 Singles), 2 RBI, 1 R; Maci Lake: 2/4 (Single, Triple), 2 RBI, 1 R; Josie Rolfes: 2/3 (2 Singles), 1 R.
FC Pitching-Bree Bischoff: 7 IP (W), 5 R (2 ER), 10 K.
With the victory, the Wildcats record improves to 8-6 (3-2 EIAC) on the year! Franklin County will travel to Rushville for an EIAC contest on Monday evening. First pitch scheduled for 5:30 pm.
Franklin County's JV Softball team continued its winning ways on Friday evening as they picked up a 10 – 0 victory over the Knightstown Panthers.
Unfortunately due to there being no lights on the field, this was a darkness-shortened game where we only played two innings. However, in those two innings, the Wildcats were still able to collect seven hits, and score ten runs in the process!
FC Offense-Karlie Jones: 2/2 (2 Singles), 1 RBI, 1 R; Kensee Ferman: 1/2 (Single), 1 R; Bella Lee: 1/2 (Single), 1 RBI, 1 R; Emma Stadtmiller: 1/1 (Double), 3 RBI; Shaden Galyen: 1/2 (Single), 1 R; Kristen Ison: 1/1 (Single), 1 R
FC Pitching-Bella Lee: 2 IP (W), 0 R, 2 H, 3 K
The JV victory brings their record to 9-2 on the season and extends their winning streak to nine games. Franklin County hasn't lost since April 3rd. The Wildcats will be back in action on Monday evening when they travel to EIAC foe Rushville. The first pitch for varsity is slated for 5:30 pm and JV will follow immediately after.
Courtesy of Wildcats Coach Alex McCool.