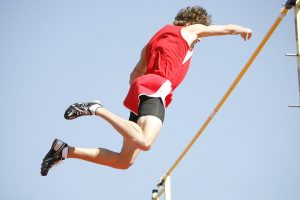 The Batesville Varsity Track Team competed in the East Central Invitational against not only teams from around here but Ohio and Kentucky on Friday night. It was some great competition and a fun night despite the early wind and the cold temperatures after the sun went down.
Batesville had over 25 personal best performances and brought home medals in 7 events, tying New Albany. East Central had the most champions with 9. Batesville's Benjamin Moster was crowned the Invite MVP for scoring the most points for their team. Benjamin took home 2 individual championship medals in the 1600m run and the 800m run. He was also a part of the 1st place 4 x 800 relay team and the 2nd place 4 x 400 relay team. Congratulations Benjamin!
On the boys side, they were short 8 points in bringing home the championship trophy, falling to Moeller, 123-115. East Central was 3rd at 97 points, Elder was 4th-94.5, Franklin County, 5th-84, followed by Ryle-54, Oldenburg Academy-29, Greensburg-17 and South Ripley-10.5. The girls finished 4th overall by 1 point to Seton. Scores were: New Albany-137, East Central-111, St. Ursula Academy-105, Batesville-61, Seton-60, Greensburg-52, Ryle-38, Franklin County-33, South Ripley-14 and Oldenburg Academy-12.
Both the girls and boys 4 x 800 teams opened up the night on the track with two victories with the girls running a personal best by almost 7 seconds and beating the field by almost 13 seconds at a 10:05.84…Members were Ava Hanson, Kaylie Raver, Megan Allgeier and Katie Olsen. The boys team included: JJ Kuisel, Ean Loichinger, Daren Smith and Benjamin Moster (8:45.63), beating the field by almost 10 seconds.
Other medal winners for the night were:
Benjamin Moster-1600 (4:38.52) and 800 (2:02.13)
JJ Kuisel-400m dash (50.84)
Ean Loichinger-3200m run (10:15.03)
High Jump-Gabe Gunter (6'0″)
Invitational runner ups for the night were:
Katie Bedel-pole vault
Both 4 x 400m relay teams of Kaylie Raver, Ava Hanson, Carley Pride, Katie Olsen and Benjamin Moster, Eli Pierson, Vonley Hund, and JJ Kuisel
3rd places went to:
Lily Pinckley-3200m run
Deacon Hamilton-300m hurdles
4th place:
Ella Moster-300m hurdles
Deacon Hamilton-110m hurdles
JJ Kuisel-200m dash
5th place finishers went to:
Carley Pride and Vonley Hund-400m dash
Daren Smith-800m run
Eli Pierson-200m dash
Adam Hollowell-3200m run
Both 4 x 100m relay teams of Madelyn Pohlman, Ella Moster, Lizzy Nobbe, Elena Kuisel and Vonley Hund, Gabe Gunter, Willy Sherwood, and Eli Pierson
6th places were:
Lily Pinckley-1600m run
Kaylie Raver-400m dash
Megan Allgeier-800m run
Gabe Gunter-pole vault
7th place:
Ella Moster-100m hurdles
Katie Bedel-discus
Elena Kuisel-pole vault
Ean Loichinger-1600m run
and finishing out the scoring in 8th place was:
Dillon Murray-800m run
Adam Hollowell-1600m run
As mentioned above, Batesville had many personal bests broken individually and by relay teams as a whole and they were:
200-Willy Sherwood
400-Vonley Hund
800-Benjamin Moster, Dillan Murray, Megan Allgeier
1600m run-Adam Hollowell, Lily Pinckley
3200m run-Maria Lopez
100m hurdles-Ella Moster
300m hurdles-Ella Moster, Cora Deputy, Deacon Hamilton and Chase Hamilton
Long Jump-Lizzy Nobbe and Madelyn Pohlman
Shot Put-Blake Hon and Katie Bedel
Girls 4 x 800 team with Ava Hanson, Kaylie Raver and Megan Allgeier running PR splits
Both the boys and girls 4 x 400 team with Katie Olsen, Ava Hanson, Vonley Hund and Eli Pierson running PR splits.
The Bulldogs next meet is this coming Thursday where they will host the County meet and we will also be honoring our seniors! Come cheer on your Bulldog Track Team!
Courtesy of Bulldogs Coach Lisa Gausman.