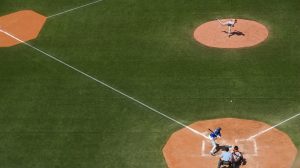 The Batesville Bulldogs defeated South Ripley 10-0 on Friday as two pitchers combined to throw a shutout and three hitters blasted home runs.
Trey Peters led the Bulldogs to victory by driving in four runs. Peters went 2-for-3 at the plate. Peters drove in runs on a home run in the third and a single in the fourth.
The Bulldogs tallied five runs in the fourth inning. The Batesville offense in the inning was led by Travis Lecher and Max Baumer, as both players went deep in the inning.
A single by Franklin n the first inning was a positive for The Raiders.
Riley Zink (3-1) took the win for the Bulldogs. The pitcher surrendered zero runs on three hits over four innings, striking out six. Grunkemeyer threw one inning in relief out of the bullpen.
Gentile took the loss for South Ripley. Gentile went two and a third innings, allowing five runs on four hits, striking out two and walking one.
The Bulldogs racked up seven hits on the day. Peters and Lecher each racked up multiple hits for Batesville. The Bulldogs didn't commit a single error in the field. Zach Wade had the most chances in the field with seven.
The win for the Bulldogs is the sixth in a row for Batesville and it takes their record to 12-4 overall. The Bulldogs look to continue their winning ways against EIAC foe Lawrenceburg on Monday at Liberty Park.
Courtesy of Bulldogs Coach Justin Tucker.