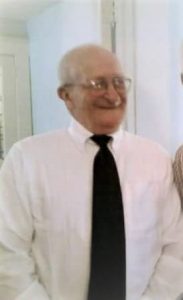 Donald "Howard" Kirkey Sr., 77, of Dillsboro, passed away Thursday, April 15, 2021 at The Waters of Dillsboro.  Howard was born on Friday, January 7, 1944 in Rising Sun, Indiana to Donald and Norma (Ake) Kirkey.  Howard proudly served his country in the U.S. Marines. Later in life he worked for the Daulton Barge Lines as a deckhand in Wilder, Kentucky. He was a member of multiple organization including the Moores Hill American Legion Post #209, Fraternal Order of Eagles of Aurora, and the Moose Lodge of Aurora.  In his free time, you could find him fishing, playing video poker, shooting pool, or hunting.
Howard will be missed by his sons Donald Kirkey Jr. (Symadore) of Warsaw, Kentucky, and Arthur Kirkey (Angel) of Aurora, Indiana; stepdaughter Wendy Weber (Denny) of Patriot, Indiana; sister Brenda Sue Carter of Madison, Indiana; five grandchildren; four great-grandchildren; and many nieces and nephews.  He was preceded in death by his parents, brother William Kirkey, and sisters Dixie Schmaltz and Linda (Kirkey) Winkle.
There are no services planned at this time. Memorials may be given in honor of Howard to the American Cancer Society. Sibbett-Moore Funeral Home has been entrusted with arrangements, Box 156, Moores Hill, IN 47032, (812)744-3280.  Please reach out through our website at www.sibbettmoore.com to leave an online condolence or a memory of Howard for the family.