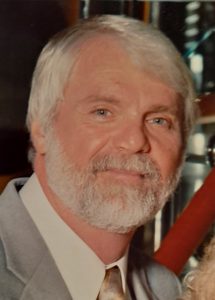 Lawrence Edward Back, 71, of Greensburg, passed away on April 12, 2021. He was born on November 19, 1949 in Connersville, Indiana the son of Raymond J. and Jeannetta (Snyder) Back. Larry was a 1968 graduate of Greensburg High School. He served in the United States Air Force during the Vietnam War. He was stationed in Thailand and fell in love with the country, the culture, and the people; a love that he passed on to his daughter. Larry was well known around town as "The Maytag Man" and ran Backs TV and Appliance for many years with his father. He was a devoted family man, loving father, and generous friend.
He loved basketball and was a talented steel-tipped dart player.
Survivors include: Daughter, Brittany Back; Son, Brian Back; Stepson, Eric Sparks; Brothers, Bob (Alice) Back and Dave (Karen) Back; Nieces and Nephews, Scott (Jennifer) Back, Corrine (Daniel) Back-Preston, Kimberly (James) Back-LaMaster, Andrea (Ben) Back-Megel; Great Nephews, Michael and Clayton Back, Amedeo and Renaldo Preston He was preceded in death by his parents and great nephew, Thomas Back.
A visitation will be at the Gilliland-Howe Funeral Home on Friday, April 16, 2021 from 4:30 to 7:30 pm. Friends and family are welcome to share stories and eulogies during the visitation from 6:00 pm – 7:00 pm. A Rosary will be prayed at 7:30 pm. A Funeral Mass will be held at the St. Mary's Catholic Church on Saturday, April 17, 2021 at 11:00 am with Father Bill Ehalt officiating. Funeral Mass will also be available live on the Gilliland-Howe Funeral Home Facebook Page. Burial will follow at the St. Mary's Catholic Cemetery. Memorial contributions can be made to the Donor's Choice. Online condolences can be made to the family at www.gilliland-howe.com