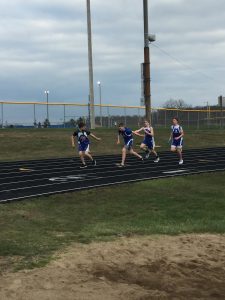 The Batesville High School Track team opened up their outdoor season tonight after a slight delay with a quick storm. The sun came out along with a bright rainbow and finally after almost two long years of competing outdoors, the 2021 season began and the Bulldogs showed up ready to compete.
The girls finished the night bringing home 9 blue ribbons of the 16 events, beating the Greensburg Pirates 86-45. The boys won all but 3 events winning with a score of 93-35. There were also numerous personal records broken. It was a fun night and it felt so good to be competing again.
First place finishes went to Cora Deputy-100m hurdles (18.9); Lily Meyer-Long Jump (15'7″) and 100m dash (13.6); Madelyn Pohlman-400m dash (1:06.9); Katie Olsen-800m run (2:34.4); Elena Kuisel-200m dash (28.4);
Katie Bedel-Pole Vault (8'0″); Deacon Hamilton-110m hurdles (17.1) and 300m hurdles(47.1); Eli Pierson-100m dash (11.1) and 200m dash (22.8); Benjamin Moster-800m run (2:10.8) and 1600m run (4:50.1); JJ Kuisel-400m run (51); Gabe Gunter-High Jump (6'0″) and Pole Vault (10'6″); Ean Loichinger-3200m run;
Both Boys and Girls 4 x 800m relay…JJ Kuisel, Ean Loichinger, Daren Smith and Benjamin Moster (8:50) and Ava Hanson, Lily Pinckley, Kaylie Raver and Megan Allgeier (10:27.7); Boys and Girls 4 x 400m relay…Willy Sherwood, Benjamin Moster, Vonley Hund and JJ Kuisel (3:45.2) and Carley Pride, Katie Olsen, Ava Hanson, and Kaylie Raver (4:33.6); and Boys 4 x 100m relay-Eli Pierson, Vonley Hund, Kurt Siefert and Gabe Gunter (46.1).
2nd place finishers went to Ella Moster-100m hurdles, 300m hurdles; Madelyn Pohlman-100m dash; Georgie Doll-Shot put; Carley Pride-400m dash; Kaylie Raver-800m run; Faith Tekulve-Discus; Lily Meyer-200m dash;
Ava Hanson-High Jump; 3200m run-Lily Pinckley; Elena Kuisel-Pole Vault; Chase Hamilton-110m hurdles, shot put; Deacon Hamilton-long jump; Ean Loichinger-1600m run; Daren Smith-800m run; Sam Robben-300m hurdles; Nate Deputy-Discus; JJ Kuisel-200m dash; and Adam Hollowell-3200m run.
3rd place ribbons were Elena Kuisel-100m dash; Maria Lopez-1600m run; Megan Allgeier-400m dash, 3200m run and Pole Vault; Katie Bedel-Discus; Madelyn Pohlman-200m dash; Carley Pride-High Jump; Cora Deputy-Pole Vault; Adam Hollowell-1600m run; Willy Sherwood-400m dash; Dillon Murray-800m run; Chase Hamilton-300m hurdles and Discus; Austin Cornn-High Jump.
There were MANY personal bests performed tonight and they are listed below by event.
100m dash-Eli Pierson, Kurt Siefert, Vonley Hund, THomas Hartman, Jy'lil Chappell, Tyler Kuntz, Alex Murphy, Madelyn Pohlman, Elena Kuisel, Lizzie Nobbe, Faith Martin
200m dash-Eli Pierson, Willy Sherwood, Kurt Siefert, Thomas Hartman, Austin Cornn, Jy'lil Chappell, Tyler Kuntz, JJ Kuisel, Madelyn Pohlman, Elena Kuisel, Lizzie Nobbe
400m dash-Madelyn Pohlman
800m run-Benjamin Moster, Dillon Murray, Nathan Villani, Daren Smith, Kaylie Raver, Trysta Vierling
1600m run-Benjamin Moster, Will Nuhring, Daren Smith
100/110m hurdles-Chase Hamilton, Deacon Hamilton, Cole Rudolf, Cora Deputy
300m hurdles-Ella Moster
Pole Vault-Gabe Gunter, Nate Deputy, Josh Mobley, Megan Allgeier, Elena Kuisel
Discus-Nate Deputy, Blake Hon, Derek Vansickle, Faith Tekulve, Georgie Doll
Shot Put-Nate Deputy, Karson Macke, Blake Hon, Will Thomas, Derek Vansickle, Sean Callahan, Conor Powell, Faith Tekulve, Alyssa Nobbe
Long Jump-Deacon Hamilton, Cole Rudolf, Lily Meyer, Lizzie Nobbe
High Jump-Thomas Hartman
4 x 4 splits-Gabe Gunter, Vonley Hund, Deacon Hamilton, Evan Berkemeier, Tyler Bedel, Madelyn Pohlman, Kaylie Raver
4 x 8 splits-Daren Smith, Dillon Murray, Ava Hanson, Kaylie Raver, Megan Allgeier, Madison Rahschulte
Yes, a great start to the 2021 season! Congratulations everyone!!! Next week the Bulldogs will host Franklin County on Tuesday and Lawrenceburg on Thursday, April 15th.
Courtesy of Bulldogs Coach Lisa Gausman.