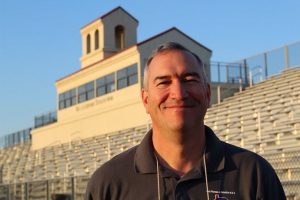 Batesville, IN — A seasoned instrumental music education teacher with past leadership experience in the United States Marine Corps (USMC) Band has been selected as the next band director for the Batesville Community School Corporation (BCSC), according to Batesville High School (BHS) principal Andy Allen.
Upon approval at the April 19 meeting of the BCSC School Board, Michael Walker, currently the music director at Las Plumas and Oroville High Schools in California, will be joining the BCSC staff this summer as the band director at both Batesville High School and Batesville Middle School. Mr. Jon Porter is currently serving as interim band director for the 2020-21 school year.
Under Walker's guidance, his current high school bands in California were awarded the top overall music ensemble at the Heritage Music Festival in Seattle, Washington, and were invited to perform at Carnegie Hall. While serving in the USMC Band, Walker was an Enlisted Conductor, Drum Major, and Platoon Sergeant, responsible for selecting and rehearsing the music for concerts and ceremonies.
Walker received his Bachelor of Science degree in Instrumental Music Education from North Dakota State University, as well as an Associate of Fine Arts degree from Casper College. He is a current member of the California Band Director's Association and is a founding and current member of the Band of America's Few. This unique band is one whose ranks are filled with retired and honorably discharged Marine Corps Musicians. He and his wife Nicole, who will be a law school student at the University of Cincinnati in the fall, have two grown children, Peter and Ariel, who both live in Seattle.