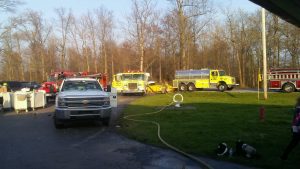 Versailles, IN — New Marion Volunteer Fire Department and Versailles Fire and Rescue responded to an active fire alarm with smoke at Silver Memories Nursing Home on Tuesday.
Firefighters assisted in evacuating 25 residents of the facility. The fire was contained to the attic area of the structure and fortunately, there were no injuries reported. Manderly Nursing Home in Osgood as well as South Ripley School Corporation was able to help by providing additional transportation for the residents to other facilities with handicap accessible buses.
Mutual aid was provided at the scene by the Osgood Volunteer Fire Department, Ripley County EMS, and the Ripley County Sheriff's Office.