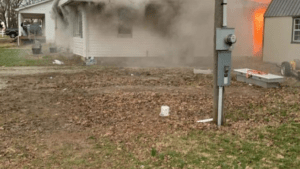 Alert, IN — A GoFund Me page has been set up to help the family of a recent tragedy that lost everything in a fire on Monday morning.
The Westport Volunteer Fire Department along with the Letts Volunteer Fire Department and Decatur County EMS were dispatched to a report of a structure fire on County Road 1050 West near Alert shortly after 8:15 am on Monday. When crews arrived on the scene, they found the house was fully engulfed in flames. Crews were able to put the fire out. Though there were no injuries reported, four family pets perished in the fire.
The family is said to have had insurance to cover the contents lost in the fire, but was purchasing the home on contract and still had payments to make. The funds are said to help rebuild.