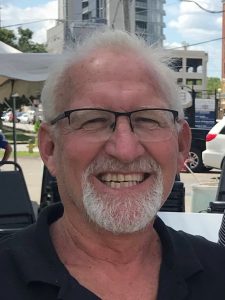 Robert "Rob" Hamon age 63 of West Harrison, Indiana passed away Wednesday, March 10, 2021 in Cincinnati, Ohio with his family at his side. Born February 21, 1958 in Hamilton, Ohio the son of Robert Joseph and Rose (Moore) Hamon.
Rob, a 1976 graduate of East Central High School, married his high school sweetheart Rita Farmer on June 4, 1977 at St. John the Baptist.
Rob worked hard his entire life in construction for close to 30 years, including co-owner of Hamon Home Improvements and then as owner of Hamon Homes Incorporated. Lastly employed by the Cincinnati Zoo as a Team Leader of Construction.
Rob loved the outdoors including, hunting, fishing, golfing, and working at the family river camp. He was always tinkering in his garage and his latest project was rebuilding a Willy's Jeep, which he did while receiving chemo. He never complained anytime during his treatment. He maintained his quick wit and infectious smile until the very end.
He was also known for many years for his display of Christmas lights and he loved the joy it brought to others. He coached his children's sports and loved every minute. He was willing to help out anyone at anytime. His grandkids were his pride and joy, and his best buddies.
Rob is survived by his wife Rita Hamon. Father of Matthew (Abbey Boric) Hamon and Amanda Hamon. Grandpa of Axel Ryan Hamon, Charlie Robert Hamon, and Ty Striet. Brother of Shelia (Philip) Bowling, Regina (Don) Wahl, Tony (Deany), Bill (Adell), Steve, Marvin (Karen) and Michael (Sharon)Hamon. Like a son to Mary Catherine Farmer and the late Norbert Farmer, and like a brother to Cathy (Ron) Nevels, Debbie (the late George) Ferrell, Norb (Brenda) Farmer, Susan Farmer, Tim Farmer, Carol Rowland, and Patricia (Gregg) Emard. He is also survived by many nieces and nephews.
Preceded in death by his parents Robert and Rose Hamon, sister Anita Hotopp, father-in-law Norbert Farmer and brother-in-law George Ferrell.
Visitation will be held Monday, March 15, 2021 from 5:00 P.M. to 8:00 P.M. at Jackman Hensley Funeral Home 215 Broadway Street Harrison, Ohio 45030. Funeral services will be Tuesday, March 16, 2021 at 11:00 A.M. with Rev. Paul Hensley officiating all at Chappelow Ridge Pentecostal Church 28176 Chappelow Hill Road West Harrison, Indiana 47060.
Burial will follow at St. John Cemetery in Harrison, Ohio.
Memorials may be directed to Cincinnati Zoo c/o the funeral home.