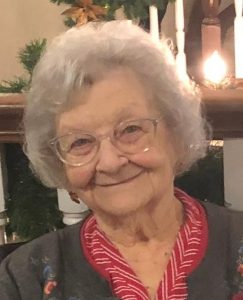 Mary Margaret (Geyer) Nedderman, age 88, of Sunman, passed away peacefully at the Chateau of Batesville on March 11, 2021.
Mary was born on May 29, 1932, at the Whitlatch Clinic in Milan, Indiana. She graduated from Sunman High school in 1950 and later went on to graduate from Purdue University with a degree in Education. Mary married Paul Nedderman on July 30, 1955 at Sunman Community Church. She taught Home Economics and Physical Education at Sunman High School and later worked as a substitute and a teacher aid at Sunman Dearborn Community Schools. She was a leader of the Peppy Peppers 4H Club and the Sunman Girl Scouts. Mary was a member of St. John Lutheran Church, Sunman Fireman's Auxiliary and Sunman Area Life Squad. Mary spent most of her life caring for her family and driving her children to whatever activities they were involved in. In her spare time, she loved crafting, playing bridge, building collections of her favorite things, fishing, the ocean, the beach and traveling worldwide.
Those surviving who will cherish Mary's memory include her two children, Debbie (Mark) Harmon of Sunman, and Jim (Cindy) Nedderman of Cold Spring, KY; three grandchildren, Kendra (Scotty) Rienschield, Mary Nedderman, and Will Nedderman; one great-grandchild, Cade Rienschield; and one sister-in-law, Ruth Ann (Bill) Hoyt. Mary was preceded in death by her husband, Paul Nedderman in 2019, as well as both of her parents, Wm and Lucille (Brinkman) Geyer.
The family would like to thank the staff of the Chateau of Batesville, Our Hospice, and the A-Team Caregivers for their kindness and care of Mary during her recent illness.
Cremation was chosen by the family and burial will be held at the convenience of the family at St. Paul Cemetery in Sunman, Indiana. Memorial contributions may be directed to St. John Lutheran Church Fellowship Hall Memorial Fund, 12523 Dearborn Road, Sunman, IN 47041, Sunman Rural Fire Department, 621 N Meridian Street, Sunman, IN 47041, or to the Sunman Area Life Squad, 403 Meridian Street, Sunman, IN 47041.