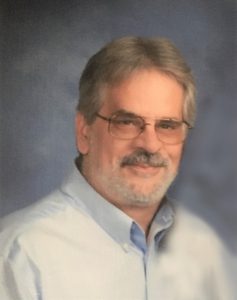 James Alan "Jim" Duncan, 63, of Lawrenceburg, Indiana, passed away Thursday March 11, 2021 in Lawrenceburg, Indiana.
He was born September 22, 1957 in Youngstown, OH, son of the late Bruce A. Duncan and Lola (Stauffer) Duncan.
He served his country as a member of the United States Air Force.
He worked as an Equipment Installer for Nortel Enterprise, retiring after 22+ years of service.
He was a member of the Fish & Game Club in Sunman, Indiana. He was a member of the Dearborn Baptist Church. Jim was a graduate of Youngstown State University.
Jim was an outdoor guy, he loved to hunt and fish. He enjoyed tinkering around the house on whatever projects he could find. He was an animal lover, especially his cat "Lilly". Jim was a cancer survivor; Leukemia and Large B Cell Lymphoma. He was a stem cell recipient, with his daughter Colleen being the donor.
James is survived by his loving spouse of 17 years Linda (Lambert) Duncan; daughters, Marah (John) Buzzard of Noblesville, IN, Katie M. Duncan of Indianapolis, IN, Chelsea M (Samuel) Enneking of Oldenburg, IN, Colleen M (Ermin Hegic) Duncan of Greer, SC, Teresa (Mic) Bowen of Winchester, KY, Rachel (Brian) Sallee of Vinton, OH, Jessica (Travis) Sanders of Gallipolis, OH; Sister, Linda Cracraft of Jacksonville, FL; 15 grandchildren, 1 great-grandchild.
He was preceded in death by his parents and brother, David Duncan.
Friends will be received Tuesday, March 16, 2021 at the Dearborn Baptist Church from Noon – 2:00 pm.
Services will be held at the church immediately following visitation.
Interment will follow in the St. Paul's Cemetery, Sunman, Indiana. Military graveside services will be conducted by the Southeastern Indiana Honor Guard.
Contributions may be made to the Ohio State James Cancer Research Center (Lymphoma Research Fund #301910) or Dearborn Baptist Church. If unable to attend services, please call the funeral home office at (812) 926-1450 and we will notify the family of your donation with a card.
Visit: www.rullmans.com