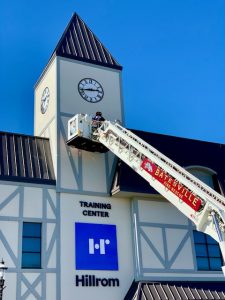 Batesville, IN — If you were downtown Batesville on Wednesday afternoon, you might have wondered what all the commotion was on Main Street and why the Batesville Fire Department was using its bucket truck on the Hillrom Training Center building.
Well, it just so happens that artists Chaz Kaiser and Andrea Grimsley were taking measurements for a public art piece to be installed later this year. The art will be able to be seen on the clock tower in all directions.
The public art is part of a yet to be unveiled project between Batesville Main Street and the Batesville Area Arts Council thanks in part to a grant from the National Endowment of the Arts.