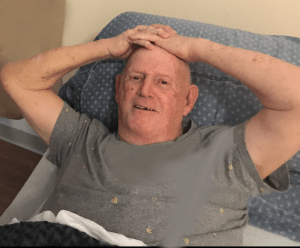 Thomas "Tom" B Gaines, 81, of Westport, Indiana, formerly of Lawrenceburg, IN, passed away Tuesday, March 2, 2021 in Greensburg, Indiana.
He was born January 9, 1940 in Ripley County, son of the late Clyde Gaines and Marjorie (Farrell) Gaines. He worked as a Storeroom/maintenance person for Monsanto, retiring after over 30 years of service. Tom was a former member of Aurora Masonic Indiana. He read meters for REMC for over 12 years. His love and passion was working on cars. He would take junk cars and rebuild them. Tom also enjoyed car shows, antique tractor shows, and enjoyed watching westerns. (especially John Wayne movies) Tom loved the outdoors. He spent time camping, fishing, cutting grass, bird watching, and gardening. He loved his dogs, Peggy Sue and Sugar.
"Tom" is survived by his loving children, Cynthia "Cindy" (Rick) Gilb of Lawrenceburg, IN, Steve (Lenora) Gaines of Manchester, IN, Terry (Tabitha) Gaines of Milan, IN, James (Anita) Gaines of Manchester, IN, Brian (Kathy) Gaines of Manchester, IN, , Darrin (Virginia) Gaines of Lawrenceburg, IN; siblings, Mary Lee (Al) Hornaday of Mooresville, IN; several grandchildren and great grandchildren; special neighbors, Penny and Wayne Powers, Rob and Kate Goodfellow, Diane and Matt Cathey.
He was preceded in death by his loving wife, Wanda Gaines; parents, Clyde and Marjorie Gaines; adoptive parents, Florence and Charles Wolferding; brother, Raymond Wolferding.
Friends will be received Friday, March 5, 2021, 12:00 pm – 2:00 pm at the First Baptist Church, 6060 Blair Road, Aurora, Indiana.
Funeral Services will be held at 2:00 Friday following visitation.
Interment will follow in the St. Paul's Cemetery, Sunman, Indiana.
Contributions may be made to Our Hospice of South Central Indiana or St Paul Cemetery Fund. If unable to attend services, please call the funeral home office at (812) 926-1450 and we will notify the family of your donation with a card.
Due to the current situation dealing with COVID-19, we are following the directives from Governor Holcomb and the Centers for Disease Control and Prevention concerning large events and mass gatherings. The family deeply appreciates the support and love shown from friends, but the health and well being of everyone in our community is of top priority. We are asking everyone who will be in attendance to please remember the social distancing guidelines at all times, and the wearing of masks is highly recommended. Alternative ways to express your condolences can be done by going online at our website and leaving the family a message, sending a card, flowers, or making a donation in memory of their loved one.
Visit: www.rullmans.com