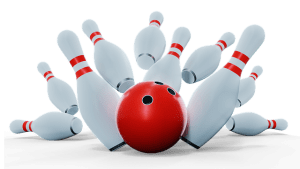 Versailles, IN —  The Ripley County Chamber is excited to host its first event of 2021,  the 9th Annual Chamber Bowling Tournament.
The tournament is set for March 13th at Pollards Bowl with the first bowling session beginning at 11:00 a.m., second at 3:00 p.m. and the final spot at 7:00 p.m. Spaces for bowling are limited and filling up so make sure you reserve your spot as soon as possible.
Through this event, Chamber Members have an opportunity to advertise their business/company/organization through the signs being displayed at Pollards Bowl. The Chamber also recognizes the businesses who sponsor and donate through various announcements before and after the event and also bowling team winners. The Bowling Tournament is a great event to attend, even if you do not bowl, to network with other chamber members, community members and business owners.
If you would like to sponsor, donate an item representing your business/company/organization, or have a team, call the Chamber at (812) 689-6654. Y