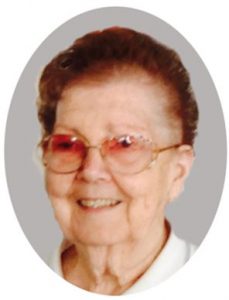 Naomi J. Prickel, age 91 of Batesville, died Saturday, February 20, 2021. Born April 28, 1929 in Enochsburg, Indiana, she was the daughter of Lawrence & Alice Fisher (Nee: Schomber). As part of a musical family, her nickname "Fid" was given because she was small enough to fit in the fiddle case. She married Omer Prickel on July 17, 1948 at St. John's Church in Enochsburg, Indiana.
Fid & Omer were life-long farmers in Hamburg. They worked together side-by-side. She always enjoyed animals and we remember on the farm the dog was always named Tippy. We don't know how many Tippy's existed. Later in life, they moved to Batesville, but she still enjoyed taking rides out in the country and riding on the golf cart while Omer played golf. They would often be seen sitting on the porch swing. Fid loved children. She never cared how long Omer played cards as long as there were kids around for her to entertain.
Omer and Fid were deeply devoted to each other and through the years shared many great experiences together. They celebrated their 60th wedding anniversary. During their years together, they loved to take vacations including many bus trips, a cruise and Myrtle Beach. They enjoyed baseball and often attended Cincinnati Reds games and were annual ticket holders for the Indianapolis 500 for decades.
Fid had an unwavering faith in God. She was known to pray the rosary frequently. In January 1996 when she had a massive stroke & was declared brain-dead, she woke up 10 days later praying the rosary aloud. Her faith led to her recovery & we were blessed with another 25 yrs. with her. In later life, when her health was declining she appreciated support from family & friends and often commented that although she was not able to physically help she would pray for all of us and we know she did!
Naomi (Fid) is survived by her sister, Shirley (Scoop) Giesting of Batesville as well as numerous nieces and nephews. In addition to her parents, she is also preceded in death by her beloved husband, Omer as well as her sister, Wanda Schwegman, her brother, Robert Fisher and 2 nieces, Jean Schwegman & Marlene Tacey.
Visitation is Wednesday, February 24, 2021 from 10 – 11 a.m. at St Louis Church in Batesville with mass immediately following at 11 a.m. with Rev. Stan Pondo officiating. The current Governor's mandate requires all attendees wear a facemask and observe physical distancing. The mask must cover the individual's nose and mouth at all times. Burial will be in the church cemetery. The family requests memorials to the Margaret Mary Health Foundation Hospice or The Chateau Activity Fund. For online condolences go to www.weigelfh.com.