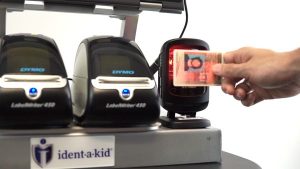 Milan, IN — Thanks to a two thousand dollar grant from Southeastern Indiana REMC, Milan Community Schools recently upgraded its visitor management system.
The Identakid Visitor Management System tracks visitors, students, staff, and volunteers as they enter or leave the building. Data can be entered into the system when court orders are in place to ensure students are not released to individuals who have "no contact" orders from a court as well as tracking visitors and volunteers to ensure accountability of all people who enter the buildings.
The recent upgrade, which included equipment for all three schools, included an infrared drivers' license scanner and a "Jiffy Pass" reader. The drivers' license scanners allows the visitor or volunteer to simply scan their drivers' license when they are checking into the school. This process not only saves time by avoiding manually entering their information, but it also scans the sex offender registry to alert school staff of anyone who may be trying to gain access to the building who is a registered sex offender.
The Jiffy Pass reader included fobs to be issued to those individuals who are regular visitors at the schools. This includes ROD Special Education Cooperative staff, mental health professionals who visit students on a regular basis, or those individuals who are regular volunteers. These individuals simply scan their fob and are automatically checked in.
Southeastern Indiana REMC has awarded numerous grants over the past several years to Milan Community Schools to fund programs and make equipment purchases that may not be normally budgeted items.