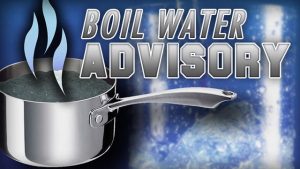 Milan, IN —
Update – Officials from the Town of Milan have stated that the Boil Water Advisory will continue for at least another 48 hours for residents and businesses in Milan.  A leak was detected early Thursday that has caused additional repairs to be required.
Original story – Feb. 9, 2021 -The town of Milan is under a Boil Water Advisory until further notice.  The advisory is due to a water main break at the intersection of State Route 350 and State Route 101.
During a boil water advisory, you should either use bottled water or boil tap water because the water could be contaminated with germs.
Standard recommendations from the Centers for Disease Control include:
• Use bottled or boiled water for drinking, and to prepare and cook food.
• If bottled water is not available, bring water to a full rolling boil for 1 minute, then allow it to cool before use.
• Boil tap water even if it is filtered.
• Do not use water from any appliance connected to your water line, such as ice and water from a refrigerator.
• Brush teeth with boiled or bottled water. Do not use untreated tap water.
• Be careful not to swallow any water when bathing or showering.