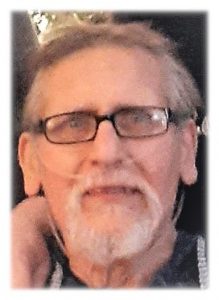 Dennis "Rollie" Rae Rollins, 66, of Osgood passed away Saturday, January 9, 2021 at Columbus Regional, Our Hospice of South Central Indiana.  Rollie was born to Charles and Hazel (Cutter) Rollins on Friday, August 13, 1954 in Madison, Indiana.  He married Kim Lae Rahe on February 23, 1974.  Rollie was a member of the Trinity Lutheran Church in Dillsboro.  He worked at Ohio Rod for 30 years and later as a security guard for Hollywood Casino for 15 years.  He liked to golf, enjoyed watching sports, and was an avid IU fan.  He loved his dogs, Sissilee and Tessa.  His greatest passion in life was his grandchildren, his life revolved around them.
Rollie is survived by his wife Kim of 46 years, of Osgood; son Christopher (Amber) Rollins of Holton; daughter Jennifer (Charles) Getz of Milan; brothers Robert (Beth) Rollins of Aurora, Randy (Jerri Lynn) Rollins of Moores Hill, and Jerry (Penny) Rollins of Lawrenceburg; sisters Connie Hoffman of Rising Sun, Judy Presley of Terra Haute, and Vicki (Gene) Autry of Milan; special sister-in-law Cathy Cornett of Aurora; father-in-law and mother-in-law Glen and Anita Rahe of Elrod; sister-in-law and brother-in-law Jo and Randy Gabbard of Manchester; and grandchildren Alexis Taylor Rollins and Connor Walker Getz.  He was preceded in death by his parents, Charles and Hazel, and infant brother Jerry Rollins.
His wishes were to have no services.  Memorials may be given in honor of Rollie to the family, for Alexis and Connor's college fund.  (Please make checks payable to Kim Rollins).  Laws-Carr-Moore Funeral Home has been entrusted with arrangements, Box 243, Milan, IN 47031, (812) 654-2141.  Please reach out through our website at www.lawscarrmoore.com to leave an online condolence message or a memory of Rollie for the family.