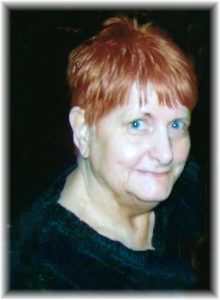 Mildred Faye Lewis of Batesville and formerly of Connersville, Indiana passed away on Saturday, January 2, 2021 at St. Andrews Health Campus.  The daughter of Alvin and Eliza (Collins) Retzner was born on September 22, 1937 in Whitesburg, Kentucky.  Faye was 83 years old.
The 1956 Sunman High School graduate was a loving mother and grandmother. Faye, as most knew her by, loved all of her cats.  Cooking was her specialty and she was known for her goulash and chicken n' dumplings.  Faye always enjoyed the outdoors, including fishing, camping and going to yard sales too. She liked to do puzzles and crosswords in her spare time. But being a grandma was probably the most special to her.
She will be missed by her son Jimmy (Sherri) Mobley of Batesville, Beth (Don) Hoegeman of Batesville and Renae (Kevin) Woodhull of Rushville; 10 grandchildren and 27 great grandchildren.
Visitation will be Thursday, January 7, 2021 from 6-8pm and funeral service will be 11:00am on Friday, January 8th all at Meyers Funeral Home in Batesville. Burial to follow in St. John UCC Cemetery (Huntersville) in Batesville. Rev. Herman Chaney officiating.
Memorials may be given to the family, by bringing to the services or mailing to: Meyers Funeral Home, P.O. Box 202, Batesville, IN 47006.
In accordance with the Indiana COVID-19 precautions, all attending are required to wear a mask and follow proper social distancing protocol, capacity is limited to 25 at a time for visitation. If you are not feeling well, or if you have compromised immune system, you are encouraged to stay home.
You are welcomed to leave a message at www.meyersfuneralhomes.com on Faye's obituary page for the family in the online guestbook.