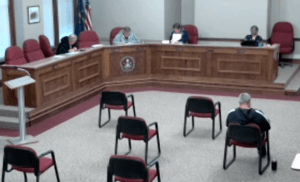 Brookville, IN — During the Franklin County Commissioners meeting on Tuesday, a public hearing took place on a Proposal for a Designation of Infrastructure Development Zone within Franklin County. This Infrastructure Development Zone would allow a property tax exemption on the new broadband personal property. This would last for the life of the property installed. And the ordinance would allow similar, competing companies the same exemption during the 6 year period allowed for installation.
Southeastern Indiana REMC has approached the Commissioners for this exemption to install broadband access in Franklin County to all areas that they service. The potential of this infrastructure would bring broadband internet access to almost 1,000 homes in Franklin County alone. The total investment from SEIREMC would be around $4 million over the next 6 years and adding over 170 miles of fiber. Barry Lauber, Director of Marketing, Key Accounts & Business Development with SEIREMC noted that 7 counties, 5 have already allowed the ordinance for an exemption during the project construction. Jennings County is still considering the ordinance. SEIREMC provides service to Franklin, Ripley, Dearborn, Jennings, Jefferson, Switzerland, and Ohio Counties.
The majority of the public comments were based on the concern of loss of tax revenue during that 6 year period and how that would affect schools and taxpayers. Commissioner Tom Wilson stated that Franklin County is in dire need of broadband services in the area.
The Commissioners closed the public hearing and made a motion to table to the vote for the ordinance for the next meeting, which will be held on Tuesday, January 12.