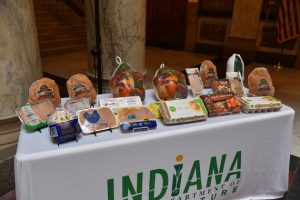 Statewide — On Tuesday, Lt. Gov. Suzanne Crouch honored Indiana's vital poultry producers at the 73rd Indiana State Poultry Donation event for their generous assistance throughout the year to their communities. Hoosier producers donated 450 tons or 900,000 pounds of poultry products despite impacts from the pandemic.
The strength of Indiana's poultry sector was also recognized during the ceremony for Indiana ranks as one of the top poultry producing states in the country. According to the USDA National Agriculture Statistics Service, Indiana ranks No. 1 in duck production, No. 2 in egg production, No. 4 in turkey production and is home to high-quality broiler chicken production as well.
The poultry industry is a substantial economic driver for the state, and it contributes more than $12 billion in total economic activity. Additionally, this sector employs more than 12,000 Hoosiers.
Aside from the donations made today, Indiana State Poultry Association (ISPA) members continually give back to their local communities throughout the year. Becky Joniskan, ISPA president, expressed that over the last 12 months their members have contributed over 7 million eggs and 200,000 pounds of meat and egg products to their local communities.