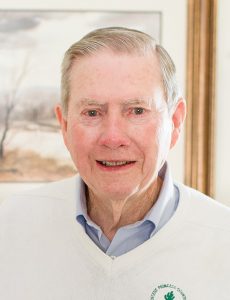 H. Jay Varner passed away on November 27, 2020 at St. Elizabeth Dearborn Hospital. He was born on September 25, 1926 to the late Herman S. Varner and Iva (Price) Varner in Grandview, Indiana.
Jay joined the US Army and was stationed in Ft. Riley, Kansas. He graduated from Kansas State University where he met his late wife, Kay (Finholt). Jay enjoyed a career in business which involved living in several midwestern states. He joined Hillenbrand Industries in 1980 and was Director of Risk Management until he retired.
Jay was very active in the Batesville United Methodist Church and the Lion's Club, serving in many positions. Growing up on a farm, he loved being outside doing any type of yard work. He enjoyed playing golf, board games and reading. Jay also was a lifelong walker and liked to find neighbors to chat with on his paths. He was a dedicated husband, father and grandfather and was very proud of his new great grandchildren.
He is survived by his three daughters and husbands, Tracy and Rob Bowden, Troy Michigan; Susan and Bill Stephens, Houston, Texas; Sarah and Eric Heppner, Oldenburg, Indiana; and seven grandchildren and spouses: Drew Bowden (Erin), Ryan (Natalie) and Gordon (Amy) Stephens, Claire Heppner Kelley (Connor) and Ellen, Grace and Sally Heppner; two great grandchildren Hank Stephens and Lena Kelley. His late wife of 58 years, Kay, preceded him in death along with his sister, Betty Lackey, and brother, Lionel Varner.
Because of social constraints, there will be a private family service at Meyers Funeral Home followed by a graveside service at the Batesville United Methodist Cemetery.
Memorials may be given to the Batesville United Methodist Church c/o Meyers Funeral Home, P.O. Box 202, Batesville, IN 47006.
You are welcomed to leave a message at www.meyersfuneralhomes.com on Jay's obituary page for the family in the online guestbook.