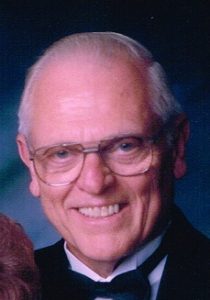 James R. Scheidler, 90, of Greensburg, passed away on Sunday, November 29, 2020 at the Columbus Regional Hospital.  He was born August 7, 1930 in Decatur County, Indiana the son of Aloysius and Anna (Stier) Scheidler, both deceased. He married Kathleen J. "Katz" Wenning on April 4, 1964 and she preceded him in death on October 18, 2002.
Jim was a 3 sport athlete and graduated from Greensburg High School in 1948.  He served in the Air Force during the Korean War.  He played football in the Air Force. Jim retired as service manager at Don Meyer Ford after having worked there for over 30 years.  Prior to that, he owned and operated the Gainesville Garage with his father for several years. He was a member of the St. Mary's Catholic Church, the American Legion Post #129, and the Knights of Columbus and he was a huge Cincinnati Reds fan.
He is survived by one son, Mark J. (Kara) Scheidler, Greensburg; one daughter, Ann (Rod) Couch, Indianapolis; four sisters, Barbara Wamsley of Greensburg, Mary Ann (Roger) Welage of Greensburg, Kate Meyer of Greensburg, Dottie (Carroll) Hoeing of Greensburg; one grandson, Karson James Scheidler, Greensburg. He was preceded in death by his parents, wife, and one sister, Marjorie Johannigman.
While observing CDC and state guidelines for social distancing and required facial coverings, family and friends will gather at 9:00 a.m. on Friday, December 4, 2020 at the St. Mary's Catholic Church in Greensburg to pray the rosary. Visitation will follow until the funeral mass to be held at 11:00 a.m. with Rev. John Meyer officiating. Interment with military graveside honors will be held in the St. Mary's Catholic Cemetery in Greensburg. The family request in lieu of flowers, memorials be made to the St. Mary's Catholic Church or to the St. Mary's School. Online condolences can be made to the family at www.popfuneralhome.com