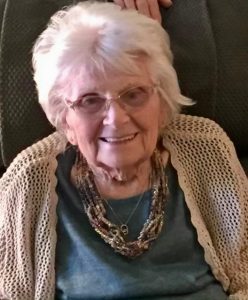 Emogene Hollin, age 87, formerly of Shandon, Ohio, passed away Sunday, November 29, 2020 at Fairfield Place in Fairfield, Ohio. Born March 15, 1933 in Bright, Indiana the daughter of Elwood and Naomi (Carpenter) Noel.
Emogene, a 1951 graduate of Bright High School, married George Francis Hollin on August 18, 1951 in Bright, Indiana.
Survived by her daughter, Teresa M. (Phillip) Lozier and her son Gregory (Kathy) Hollin. Grandfather of Scott (Melinda)Reeves, Shawn (Debbie) Reeves, Ryan Reeves, Brandon Reeves, Brent Hollin, and Ashley (Brian) Lane. Great grandfather of Savanah, Dominick, Veronica, Joey, Trinity, Landon, Gavin, & Elle. Sister of Gary (Cindy) Noel and George (Linda) Noel. Sister-in-law of Shirley Rahn.
Preceded in death by her parents Elwood and Naomi Noel, husband George Hollin, siblings Melvin Noel and Shirley Mathews.
Visitation will be Thursday, December 3, 2020 from 12:00 P.M. until time of Funeral Services at 1:00 P.M. with Pastor Shawn Crisman officiating all at Jackman Hensley Funeral Home 215 Broadway St. Harrison, Ohio 45030. Burial will follow at New London Cemetery in Shandon, Ohio.
Memorials may be directed to First Baptist Church, Harrison, Ohio c/o the Funeral Home.