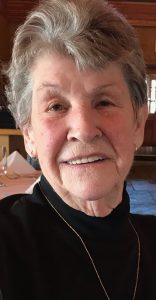 Patricia C. Woolf passed away peacefully on the morning of November 18, 2020 at the age of 75. The daughter of Harry and Norma (Fritsch) Abplanalp, was born in Batesville, Indiana on April 8, 1945.
She was a loving mother and wife, a devoted friend and a kind soul. Anyone who knew her, knew that her generosity was boundless. Patricia was an avid bird watcher, boater, craft maker, gardener and keeper of many pets over the years. There wasn't an animal in need that she would turn away. She also loved being with her family, especially at the holidays. Each Christmas she would craft an ornament for every member of the family. These little "specials" are family treasures.
She will be dearly missed by her son, Chris and daughter-in-law, Pamela (Volk) of Chicago; brother Ron Abplanalp and his wife, Bertie (Stein); sister-in-law, Pam Abplanalp (the late David) and many nieces, nephews and cousins.
In addition to her parents, she was preceded in death by her husband, Frank Woolf of 51 years, her sister, Marjorie White and brother, David Abplanalp.
Service and mass details will be announced at a later date.  Memorials may be made to a local animal shelter or the Humane Society in memory of Patricia.
You are welcomed to leave a message at www.meyersfuneralhomes.com on Patricia's obituary page for the family in the online guestbook.