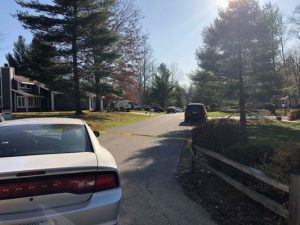 Batesville, IN —
Update — The Indiana State Police have named to suspect in the officer-0involved shooting case from Monday. The suspect has been identified as Joshua D. Evans, 32.
The investigators allege that Evans fired shots at police on two occasions, with debris from the first shot hitting an officer, leaving the officer with minor injuries.
After negotiations, Evans fired more shots at police before exiting the garage with a gun in hand. Three troopers with the Indiana State Police SWAT Team and an officer with the Greensburg Police Department fired shots during the incident. Evans was struck by at least one shot. He was provided with immediate first aid but died as a result of the injuries he sustained
Original Story — Around 8 am Monday morning, the Batesville Police were dispatched to a home off of Bridlewood Trace for a domestic disturbance. The female caller reported at that time that a male in the home was acting irrationally. When officers responded at the scene, they were able to aid an adult female and three small children to leave the residence.
When officers attempted to make contact with the male, shots were fired from the residence towards the officers. A perimeter was then formed and a request was made for additional officers on the scene. At some point, additional shots were fired from the residence from the male suspect. Officers attempted throughout the incident to resolve the issue peacefully.
At around 11:30 am, the male exited the garage, armed with a handgun. At this time the male was shot by officers. He was given immediate medical attention and transferred to Margaret Mary Health where he succumbed to his injuries.
An officer on the scene was hit by debris from a shot that was fired during the incident. The officer is reported as having minor injuries. No other officers were hurt.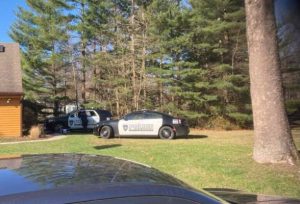 All names and ages are currently being withheld while this is still currently an active investigation with the toxicology reports pending on the deceased. The Indiana State Police Swat Team were on the scene along with the Batesville Police Department, Batesville EMS, and the Ripley County Sheriff's Office.