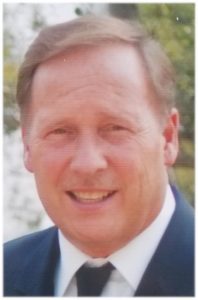 Gregory "Greg" Foley, 65, of Lawrenceburg, passed away Friday, October 30, 2020 at Highpoint Health in Lawrenceburg.  Greg was born Tuesday, July 26, 1955 to Elaine (Murray) and Sherman Foley.  He married Cindy Butler on April 14, 1978 and she survives.  Greg proudly served his country in the United States Airforce for four years. He worked for Proximo Distillers and then worked at Hill-Rom for 35 years.  Greg was a member of the Sparta Baptist Church and a member of the Moores Hill American Legion Post #209.  He enjoyed golfing, doing yardwork, was an avid sports fan, loved going to the beach, and loved the outdoors.  He was a man of faith and loved his family, especially his grandchildren.
Greg is survived by his wife, Cindy, of Lawrenceburg; children Mark Gregory Foley of Lawrenceburg and Lyndsey (Jeff) Jackson of Florida; brothers Steve Foley (Sandy) of Avon and Randy Foley (Linda) of Moores Hill; sister Melinda Zeigler (Jeff) of Sugarhill, Georgia; four grandchildren Elayna, Carter, Brady, and Emmett Jackson.  He was preceded in death by his parents, and sister Shirley Bafford.
A visitation will be held from 9 – 11 AM on Thursday, November 5, 2020 at Sparta Baptist Church, 12177 Sparta Pike, Moores Hill, IN 47032.  A funeral service will be held at 11 AM also at the church on Thursday, November 5, with Pastor Rich Burcham officiating.  Burial will follow at Forest Hill Cemetery with full military rites provided by the South Eastern Indiana Honor Guard.  Memorials may be given in honor of Greg to the American Heart Association.  Sibbett-Moore Funeral Home has been entrusted with arrangements, Box 156, Moores Hill, IN 47032, (812) 744-3280.  Please reach out through our website at www.sibbettmoore.com to leave an online condolence message or a memory of Greg for the family.