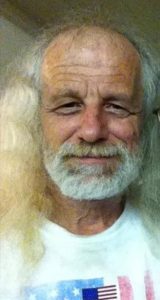 Samuel Eric Hackney, age 61, passed away from a heart attack at his place of work on Wednesday, October 28, 2020. Born July 8, 1959, he lived in DuPont, Indiana. He graduated high school early and then started his job at Delta Faucet.  After marrying his now ex-wife, they moved to Greensburg, Indiana to be closer to his work. He was heavily involved in many local bands (since his teen years) and extensively performed around the surrounding area. In addition, he loved to go on camping trips to Mammoth Cave with his daughter Sara and has been an active camper there since 1991. One of his proudest moments was seeing his daughter attend college at Ball State as he never got to attend himself even though he had been incredibly intelligent.  Those who knew him and called him a friend knew of his love for music and performing, his obsession with dune buggies and cool cars, his love of 80s hair bands, and of course his carefree, happy go lucky personality. Sam will be remembered most for his funny pictures he shared on social media that he spent hours making just to make people laugh, his sense of humor, unstoppable work ethic, his caring personality, his silly antics to make you smile, his gorgeous head of curly hair, and his deep love for his only daughter.
He is preceded in death by his brother Kenny Hackney, his father Samuel Hackney, and many more.
His memory will be kept alive by his daughter, Sara Hackney; his mom, Bette Hackney; his sisters, Marilyn Christian and Carolin Roy; and his many nieces and nephews as well as his many friends and coworkers whose lives he touched along the way.
A visitation for his family and friends will be held at the Gilliland-Howe Funeral Home on Monday, November 2, 2020 from 1:00 pm until 8:00 pm, observing CDC guidelines.  A celebration of life ceremony and sharing of memories will be held on Tuesday, November 3, 2020 at 4:00 pm with visitation from 2:00 until the time of the services.  Memorial contributions can be made in his memory at Melody Mart, 129 E. Main Street, Greensburg, Indiana 47240.  Online condolences can be made to the family at www.gilliland-howe.com