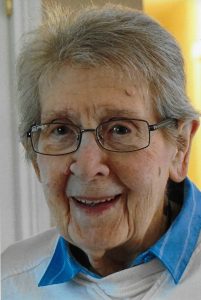 Rosemary "Rhody" Liddle Vorbroker, 94, of Aurora, Indiana, passed away Thursday October 29, 2020 in Dillsboro, Indiana.
She was born August 28, 1926 in Aurora, IN, daughter of the late Harry H Liddle and Garnetta (Miller) Liddle.
Rhody worked at National Container (formerly Alton Box), before working at Aurora Casket. She later worked at Ullrich's Drug Store and B & W Construction. She was a member of St Mary's Catholic Church.
Rhody raised four children. She enjoyed cooking and baking for her family, and being a homemaker. Rhody loved movies and singing, and she sang 3 part harmony with her sisters. Rhody loved spending time with her family.
Rosemary "Rhody" is survived by daughter, Kathy (Darrell) Donselman of Cincinnati, OH; sons, David (Elsie) Vorbroker of Aurora, IN, Dan Vorbroker of Greendale, IN, Jim (Lisa) Vorbroker of Zionsville, IN; 16 grandchildren and 17 great grandchildren.
She was preceded in death by her parents; her loving husband, Ralph William Vorbroker, son, William Vorbroker, sisters, Marcella A. Heilig and Gloria Trudeau, brother, Harry Liddle Jr.
Friends will be received Monday, November 2, 2020, 1:00 pm – 3:00 pm at Rullman Hunger Funeral Home, 219 Mechanic St., Aurora, Indiana.
Graveside Service will follow at 3:15 pm in the River View Cemetery with James Waldon officiating.
Contributions may be made to the St. Vincent de Paul. If unable to attend services, please call the funeral home office at (812) 926-1450 and we will notify the family of your donation with a card.
Due to the current situation dealing with COVID-19, we are following the directives from Governor Holcomb and the Centers for Disease Control and Prevention concerning large events and mass gatherings. The family deeply appreciates the support and love shown from friends, but the health and well being of everyone in our community is of top priority. We are asking everyone who will be in attendance to please remember the social distancing guidelines at all times, and the wearing of masks is highly recommended.
Alternative ways to express your condolences can be done by going online at our website and leaving the family a message, sending a card, flowers, or making a donation in memory of their loved one.
Visit: www.rullmans.com