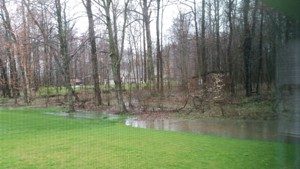 Southeastern, IN —The National Weather Service has issued a Flood Advisory for Dearborn, Decatur, Franklin, and Ripley Counties and parts of Southwestern Ohio until 12:15 pm today. Radar has indicated heavy rain in the area. Minor flooding is ongoing or expected to begin shortly in the advisory area. Between 1.5 and 2.5 inches of rain has already fallen in the area with an additional 0.5 to 1 inch of rainfall expected over the area in the next few hours.
Some locations that may experience flooding include Hamilton, Middletown, Fairfield, Oxford, Monroe, Trenton, Harrison, Batesville, Lawrenceburg, Greendale, Brookville, Bright, Hidden Valley, South Middletown, Ross, Cleves, Versailles, Camden, Milan, and Osgood.
Turn around, don`t drown when encountering flooded roads. Most flood deaths occur in vehicles.