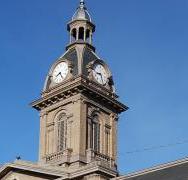 Brookville, IN — On Tuesday, The Franklin County Commissioners announced that the County Courthouse will be closed on November 4 for much needed repairs. The copula on top of the clock tower will be removed and a temporary roof will be installed according to Commissioner Tom Wilson.
Leaking and rotting over the years as well as issues with the timbers below the bell tower are now beyond repair, which has caused it to start leaning significantly to the east. A new bell tower will be made out of metal and should be built in the next 14 weeks for replacement.
US 52 will be closed on that day while work is being done and traffic will be rerouted around the courthouse to Mill Street.