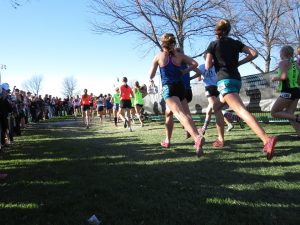 The 2020 IHSAA Cross Country Semi-States was held at Blue River Park in Shelbyville. Brenner Hanna from Greensburg placed 14th in the Girls Race and individually qualifies for The State Finals on Saturday, October 31st, at The LaVern Gibson Championship Cross Country Course at The Wabash Valley Sports Center in Terre Haute.
Carmel won the Girls team crown with Franklin Central, Zionsville, North Central, Noblesville, and Franklin rounding out the top six positions to advance to The State Finals. Annie Christie of The Lady Greyhounds was the Individual Champion.
Brebeuf Jesuit captured the Boys title with Carmel, Noblesville, Center Grove, Guerin Catholic, and Zionsville also moving on to The State Finals. Kole Mathison of The Greyhounds winning the Individual Crown.
The Batesville Lady Bulldogs finish up the season with a 12th place finish and The Bulldogs Boys place 13th wrapping up the year.