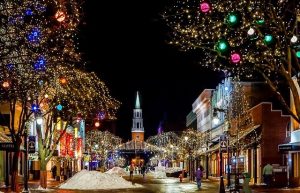 Metamora, IN — The Whitewater Canal Scenic Byway Association (WCBA) is already getting in the holiday spirit and is hosting the first annual "Christmas in the Whitewater Valley" contest in hopes of getting everyone in the Whitewater Valley feeling festive this Christmas season after a tough year so far in 2020.
The contest will be open to Dearborn, Fayette, Franklin, Ripley, Union, and Wayne counties. The contest encourages towns and individual homeowners from each county to enter holiday decorations in a regional contest. The result of participation? A six-county driving map with all entries highlighted.
Any community wishing to participate must have its decorations in the Main Street area of town, but they may extend beyond Main Street if the community is feeling more like Clark Kent than usual. All municipal decorations must be up and completed by November 30 for judging. Any homeowner in the six-county area may also participate. All homeowner decorations must be completed by Wednesday, December 2 for judging.
In order to enter the contest, an application and entry fee must be submitted to the WCBA by November 1. Entry fees for a community are $50 and just $10 for homeowners. Applications will be available in each county's respective tourism office or by contacting WCBA, 765-647-2541. Completed applications along with the entrance fees can be mailed to the WCBA's post office box, P.O. Box 75, Metamora, IN 47030. All winners will be selected by Dec. 11