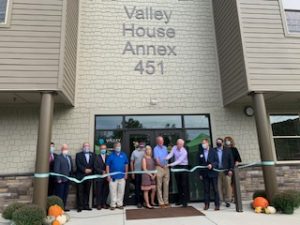 Brookville, IN — Vally House Flats in Brookville held a ribbon-cutting ceremony on Friday in front of a large crowd.
Constructed in downtown Brookville, Indiana in 1852, the Valley House Flats, originally called Valley House Hotel, served as an inn to canal travelers and town visitors. Today, it has become an apartment community designed for older, active adult in both the "Historic" and "Annex" buildings
Located across the street from the Franklin County Courthouse, the community offers maintenance-free living for adults 55 and older who qualify. There are studio, one-bedroom, and two-bedroom apartments as well as a gym, salon, and more.
The ribbon-cutting had several dignities speak about the advantages this provides to the community. Those in attendance included Congressman Greg Pence, State Senator Jeff Raatz, State Representative Randy Lyness, and more.