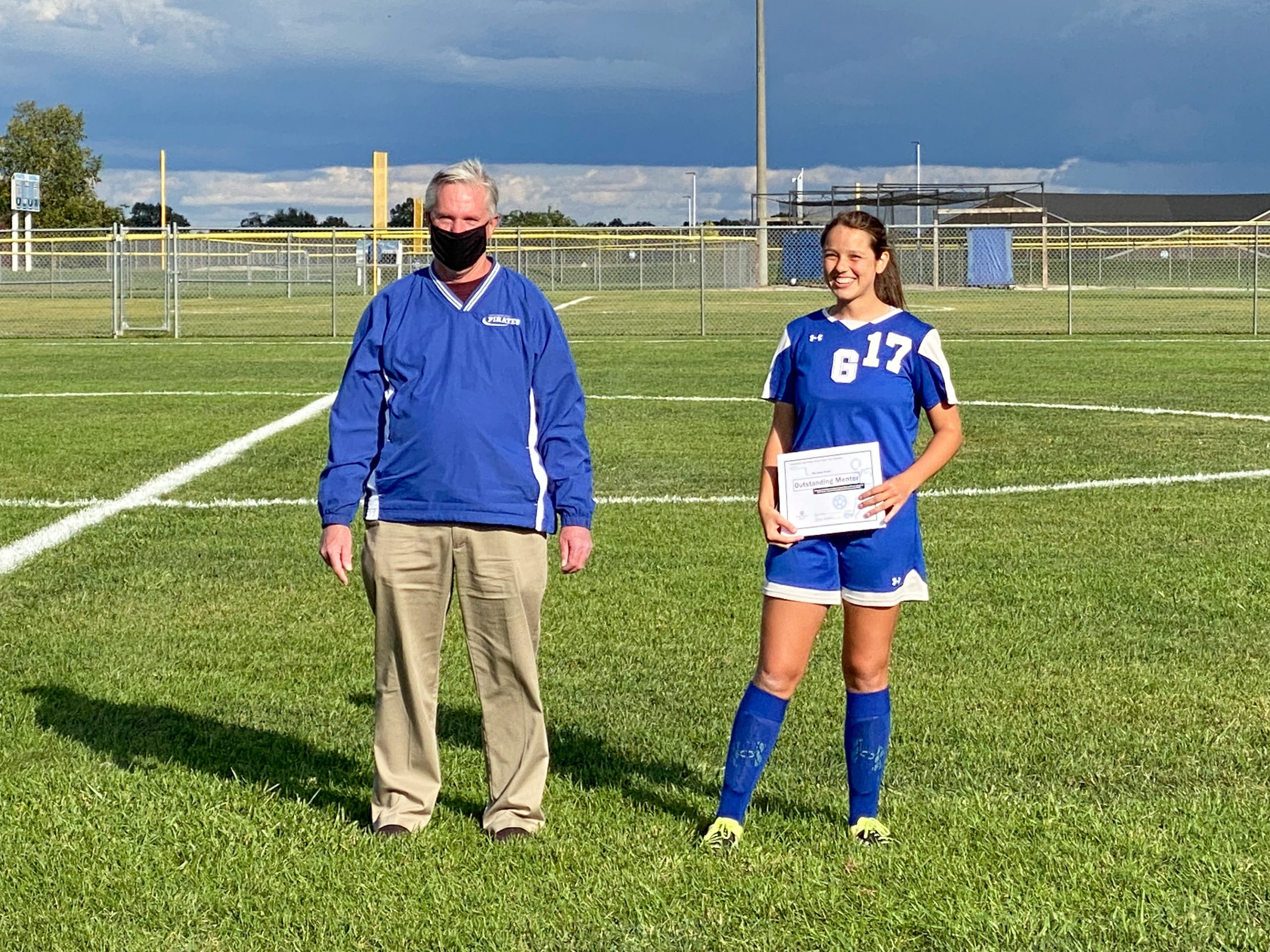 Bulldogs Middle School Spikers Advance To SEI Tourney Finals
The BMS 7th Grade Volleyball Team will advance to the championship game of the SEI Volleyball Tournament after defeating Milan in the second round. Scores were 25-18; 25-23.
The team maintained their composure to pull off the win despite some inconsistent play. There were definitely some bright spots for the Lady Dogs. Grace Walter was 11 for 12 from the service line scoring 10 points including 5 aces to lead the team. Ava Walsman continued her excellent service scoring 7 points including 2 aces without missing a serve in 11 attempts. Addison Luers contributed 7 service points. Walter was a force at the net earning 11 kills while capitalizing on several overpassed balls from the other team. The team's record improves to 11-3 on the season.
The ladies will face Greendale in the championship game at South Dearborn on Thursday at 5:30. Good luck! We are so proud of you!
Courtesy of Bulldogs Coach Shelly Prickel.
The BMS 8th grade volleyball team advances to the finals of the SEI tournament by defeating Milan 25-21, 25-20.
The team squeaked out the win with good passing from Annie Negovetich, Addison Westrick, Sarah Bedel, and Molly Meer. From the front line Annie Negovetch had 4 kills, Lydia Haskamp and Kate Bauer each had 3 kills. Aly Peters contributed with 2 kills. And Sophie Gesell, Molly Meer, and Eva Struewing each had 1 kill. The top server was Addison Westrick with 11 straight service points. Sarah Bedel had 7 points including 5 aces.
The team plays in the final game Thursday. Go Dogs!
Courtesy of Bulldogs Coach Angie Ehrman.
Bulldog CC Results At Batesville Invitational
As the regular season begins to come to an end, Batesville hosted its final home race of the season as they welcomed 9 other teams to compete in their Batesville Invitational. The girls continue to show the strength of their top 7 as they won with a low 23 points with East Central coming in 2nd 47 points later at 60 points, sneaking by Seymour with 67. The Bulldogs continue to be led by sophomore Ava Hanson as she was the first to cross the finish line at 19:36. Maria Lopez again had a PR performance beating her best by 1 second and coming in 3rd at 19:56. She was followed closely by teammate Sophie Myers in 4th at 20:02. Lily Pinckley continues to drop her time as she crossed the line in 7th at 20:27. Madison Rahschulte was right behind her in 8th at 20:38 (which tied her PR). Megan Allgeier raced through at 20:52 putting her in 10th place with Trysta Vierling finishing out the top 7 in 12th place at 21:31.
The boys, again a little short handed, had a strong showing as they had 3 personal records broken and came in 2nd to Seymour 24-52. East Central took 3rd with 75. Batesville was led by junior Benjamin Moster who ran a personal best by 19 seconds, crossing the finish line first at 16:18. Ean Loichinger was 4th at 16:41. Also with a 10 second PR was freshmen Eli Loichinger, crossing the line in 12th at 17:39. Dillon Murray followed in 15th place with a time of 18:08 with Kyler Daulton close behind at 18:19 and in 20th place. Our final PR of the night came from senior Landon Gutzwiller who continues to drop his time at 18:33 and finishing in 25th. Rounding out the top 7 for the Bulldogs was Luke Nuhring placing 34th (20:41).
Way to go Bulldogs! Batesville will have a quick one day break, then travel to Greensburg tomorrow night for their final race of the regular season. Good Luck Dogs!
Courtesy of Bulldogs Coach Lisa Gausman.
Lady Pirates Soccer Team Falls To Lady Knights
The Greensburg Lady Pirates Soccer started the evening out with Senior Kaelyn Spears honoring her Influential Faculty Member at Greensburg Community High School. Kaelyn honored Teacher John Pratt. She thanked Mr. Pratt for " believing in me, helping me through my struggles, and for being the most amazing teacher and the person you have always been." Spears said Pratt "taught me that I can do anything as long as I have confidence in myself and I believe in myself." Thank you, Mr. Pratt, for being a mentor to our community. SD won 9-0.
Keeper Ella Lowe and the Pirate defense were met by 43 shots on goal and they could not answer back. Pirates only managed to send seven shots to the Knights keeper.
This brings the Lady Pirates to 5-8 overall and 1-5 in the conference. The next pairing is Thursday (10/1) at home against Connersville at 5 pm. They will be home on Saturday (10/3) to face Triton Central for the final regular-season game. Next week starts sectionals and the Lady Pirates are paired against Beech Grove at 7 pm and sectional games are in Batesville.
Courtesy of Pirates Coach Ryan Morlan.
Lady Trojans VB Team Wins Against Lady Lions
About a month ago, ECVB traveled to Rushville for a conference match. Due to an emergency with one of the officials, our game got postponed until last night. The first trip, we didn't show up. There was nothing pretty about our performance and I'm not even sure how we pulled off the 26-24 win. We started set 2 the same way that night and the game was postponed at 6-6.
ECVB vs Rushville 9-29-20

We started at 6-6 last night and we were much more fired up and ready to play. We jumped out to a quick lead and never looked back. We finished with the scores of 25-13 & 25-13.
Varsity is now 14-7 on the season and 6-0 in the EIAC. Next: at Shelbyville Saturday at 11 AM.
Courtesy of Trojans Coach Cassie Laker.
Chargers CC Teams Fall To Cougars In The Civil War
The North Decatur Lady Chargers hosted South Decatur in the annual Pheidippides Cup. Jenna Walton lead North Decatur winning the race 25-34.
ND Results-Jenna Walton 1st 21:43; Addie Gauck 4th 23:33 PR; Gracie Posting 7th 25:13; Ellie Cox 11th 26:23; Lauren Holloway 14th 26:46; Hannah Allen 15th 27:30; Paige Wesseler 16th 29:19.
The North Decatur Chargers hosted South Decatur in the annual Pheidippides Cup. The Chargers ran well and set multiple PR's. We also honored our two seniors at the conclusion of the meet. Brandan Gearhart and Cameron Medsker.
ND Results-Lance Nobbe 4 20:12 PR; Aiden O'Dell 5 20:28; Caleb Bowles 6 20:29; Adam Mack 7 20:31PR; Owen Geis 8th 20:38 PR; Brandan Gearhart 9th 20:39; Jack Cathey 12th 21:32; Ryan Hancock 13th 22:05; Cameron Medsker 18th 22:52 PR; Chris Gauck 19th 23:04 PR; Collin Bryant 20th 26:02.
Courtesy of Chargers Coach Kyle Nobbe.
AquaTrojans Middle School Swimmers Top Sea Dragons To Cap Undefeated Season
Another year, another undefeated season for AquaTrojans of Sunman-Dearborn. SDMS finished the year traveling South to face South Dearborn on Monday night. AquaTrojan girls won 105-65. AquaTrojan boys won 123-44.
South Dearborn vs. SDMS 092820

Individual winners include Ryan Corlett – 200 Free; Elle Jankovsky – 100 IM, 100 Breast; Brogan Wilson – 100 IM; Bree Cleary – 1 meter diving; Aubree Popen – 50 Fly; Issac Quick – 50 Fly; Reagan Reany – 100 Free; Kyle Goodwin – 100 Free, 100 Back; Andrew Strotman – 400 Free; Riley Reany – 100 Back.
AquaTrojans won 2 of 4 relays.
Congrats AquaTrojans on another great season!!!
Courtesy of AquaTrojans Coach Brandon Loveless.